California mudslide victims include founder of Catholic school, 'first lady' of luxury real estate
The founder of a Catholic school and a woman known as the "first lady" of luxury real estate were among those killed when a powerful mudslide tore through a wealthy coastal enclave in Southern California.
Hundreds of searchers continued digging through knee-deep ooze Thursday looking for survivors, as nearly 50 people have been reported missing and the names of the 17 killed began to trickle out.
Roy Rohter, 84, died early Tuesday when he was swept from his Montecito home alongside his wife, according to a statement from Saint Augustine Academy, which he founded in Ventura in 1994.
Roy Rohter, who founded St. Augustine Academy, died when a mudslide in Montecito swept him from his home. (Saint Augustine Academy )
"Roy Rohter was a man of strong faith and a great friend of Catholic education," Michael F. McLean, president of the college, said in a statement posted on the school's website Wednesday.
Rohter's wife, Theresa, was rescued from the torrent of mud, boulders and other debris and was in stable condition, the Academy said.
Roy Rohter, right, and his wife Theresa were swept from their home in Montecito early Tuesday. (Saint Augustine Academy)
Michael Van Hecke, the school's headmaster, said in a statement that Rohter lived his life "in service to his good, loving and ever-forgiving God."
"He has done so much for so many people and pro-life and Catholic education causes. Thousands have been blessed by the Rohters' friendship and generosity," he said.
AT LEAST 17 DEAD IN CALIFORNIA MUDSLIDES, DEATH TOLL EXPECTED TO RISE
A woman known as the "first lady of luxury real estate" was killed when the mudslide pounded the town of 9,000 people northwest of Los Angeles, which is home to celebrities such as Oprah Winfrey and Ellen DeGeneres.
Rebecca Riskin, 61, of Riskin Partners in Montecito died early Tuesday, her real estate group confirmed in a Facebook post.
Riskin was a professional ballerina before she earned the "first lady" moniker, according to KEYT. She sold more than $2.17 billion in real estate during her career.
"Per her wishes, we intend to carry out her life's work with the same strength, grace and elegance that wholly defined Rebecca," Riskin Partners said in its Facebook post. "Rebecca was an exceptional woman, and her legacy will continue to live on and thrive through her children, Robert and Julia, her husband Ken Grand, and her namesake firm, Riskin Partners."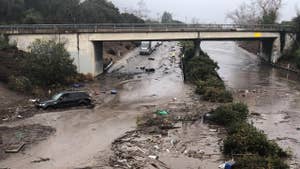 Video
Meanwhile, hundreds of searchers from around the state continued to dig through the mud and wreckage left by the flash flooding, poking long poles into the mud to probe for victims. The death toll from Tuesday's pre-dawn flash flood rose to 17 on Wednesday as more bodies were found. Another 48 are still reported missing.
"We've gotten multiple reports of rescuers falling through manholes that were covered with mud, swimming pools that were covered up with mud," said Anthony Buzzerio, a Los Angeles County fire battalion chief. "The mud is acting like a candy shell on ice cream. It's crusty on top but soft underneath, so we're having to be very careful."
OPRAH, ROB LOWE AMONG CELEBRITIES AFFECTED BY DEADLY MUDSLIDES IN CALIFORNIA
A dozen people were hospitalized at Santa Barbara Cottage Hospital and four were in critical condition, Dr. Brett Wilson said at a news conference
A damaged car sits over fallen and debris behind downed power lines in Montecito, Calif. (AP Photo/Marcio Jose Sanchez)
People in Montecito had counted themselves lucky last month after the biggest wildfire in California history spared the town, but it was the fire that led to the mudslide, by burning away vegetation.
Only an estimated 10 to 15 percent of residents fled when ordered and much of the damage occurred where evacuations were voluntary. Rescue crews worked up to 12 hours a day and risked stepping on nails or shattered glass, or being exposed to raw sewage, or dealing with leaking gas, Deputy Dan Page, chief of the Altadena Mountain Rescue Team of the Los Angeles said.
The Associated Press contributed to this report.
Travis Fedschun is a reporter for FoxNews.com. Follow him on Twitter @travfed
---
Written by News Desk
---
0 Responses
---
Battlefield Live
We're here to fix the machine
Lanterns
We're here to fix the machine.
We are here to fix the machine. The machine is the federal government that has been fundamentally transformed the serve the elite instead of "We The People". Our goal is to engage our fellow Americans on the battlefield of ideas to discover the most ideal way for our nation to be governed to provide the most security with the maximum amount of liberty and freedom for all American citizens. We welcome all people from all walks of life and ideologies to engage with us. Join us on the battlefield of ideas.